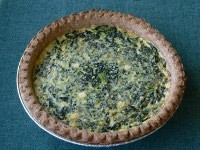 Making a quiche is a perfect way to use extra eggs when your chickens are in their peak laying season. Sometimes called egg pie, this is an easy way to use up or preserve eggs — try making several ahead and freezing them for Winter use.
Spinach Yogurt Quiche is a unique recipe for a that our family has been making for over 25 years. For variations on this recipe, try adding mushrooms or caramelized onions, or serve with marinara sauce.

INGREDIENTS:
1 deep-dish unbaked pie shell
1 1/2 cups Swiss cheese, grated
4 eggs, lightly beaten
1 cup plain yogurt
1 tbsp. cornstarch
3/4 cup evaporated milk
4 oz. frozen spinach, thawed and squeezed dry
1/2 tsp. salt
1 dash black pepper
1/8 tsp. nutmeg
2 tbsp. grated Parmesan cheese
INSTRUCTIONS:
Preheat the oven to 375° F.
Spread the grated Swiss cheese over the bottom of the pie shell.
Make the quiche filling: Beat the eggs, yogurt, cornstarch, evaporated milk, salt, pepper, nutmeg, and spinach together.
Pour the quiche filling into the pie shell.
Sprinkle the Parmesan cheese over the top.
Bake at 375° F for 30 to 35 minutes or until set.
Let stand for 10 minutes before slicing.