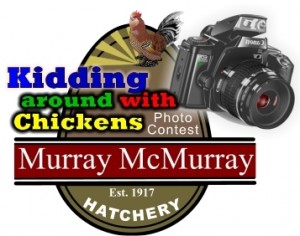 Let's get these pictures started, yeah!  We are kicking off our 2012 photo contests with the kids – Kidding Around with Chickens!  We want to see your pictures of your kids and your chickens or other fowl.
Photos should give viewers the initial reactions of "oooohhh how sweet!", "wow that's cool!", "how adorable!", "look how pretty that is!", "that is so funny!" and the like. Get your pictures ready to send in. The contest begins on March 14th.  You can register and upload your photos at the following link:   http://www.photo-contest.us/kawc2012.  The contest ends on March 31st. We can't wait to see your photos!
Oh yeah, there's prizes too!  First place gets a $100 coupon gift certificate to Murray McMurray Hatchery! 2nd place gets a $50 gift certificate, 3rd place gets a $25 gift certificate.  4th through 6th places each receive a $15 gift certificate…
You will be voting for a winner as well.  Get your friends, family, and fellow chicken and fowl lovers to register and vote for your photo!
Complete rules, prizes and more can be read here:  http://www.mcmurrayhatchery.com/2012_photo_contest_rules.html