Late last year I received an invitation from Joel Salatin of Polyface Farms to exhibit at their Field Day.  The Field Day I would learn consisted of Joel and his team opening up his farm to approximately 1,800 interested current future farmers, homesteaders, gardeners and others.  Located near Swoope, Virginia, PolyFace Farms offers a unique method of intense grazing with a rotation method of livestock to where each animal enriches or repairs the soil for the next occupant.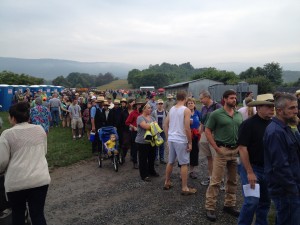 The Field Day began with folks arriving around 5:00am on a beautiful Saturday morning.  Located in the Shanandoah Valley, the setting that Polyface calls home is a welcoming sight of beautiful nature with freely flowing creeks, Blue Ridge mountains of bright green trees and abundant wildlife.  After a quick stint in the accumulating registration line a cup of hot coffee, I was ready to greet the many chicken enthusiasts that would flock to the farm.
I read through the information packet that I got at registration while I walked past the select vendors that were there by invitation only.  It was great to see several vendors of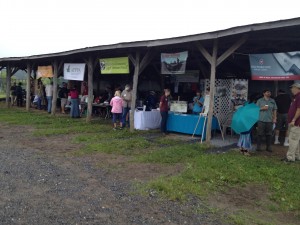 products that we sell in our catalog!  In addition to product vendors, several booths were occupied by organizations that supported the efforts of many people present that day.  Organizations and businesses such as Featherman Equipment, Premier One, Farm to Consumer Legal Defense Fund and the American Pastured Poultry Producers Association were just some I recognized to mention a few.  Housed in equipment sheds throughout the farm, this was one of the most unique uses of space I had seen but in line with Joel's philosophy of function over form, this was no surprise.  With a light shower that would conclude the day, the sheds proved to be a wonderful booth location for many who did not have tents!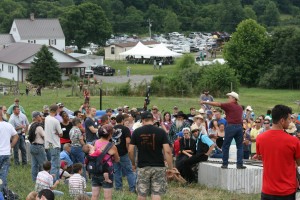 The day was jam packed with farm tours of how-to's and good for you's.  These how-to's included discussions on gardening, chicken raising, cattle raising, turkey raising, marketing your product, butchering, raising rabbits, creating buying club and much more.  I was amazed at how transparent Joel and his team were with how they did things.  This was a true example of mentoring as the team held nothing back, offered all details (good and bad) of how they performed each task at hand.  Questions were asked by people of all ages and answered in a way that everyone listening benefited from.  Stories of other peoples' methods were shared and enjoyed by all in a supportive family oriented atmosphere that generated many "Good for You!" congratulatory statements.
I was keenly interested in Joel's chickens operations as several Murray McMurray
Hatchery laying breeds were present throughout the Polyface fields.  The birds themselves looked happy and healthy as they roamed either free on the pasture protected by Premier's electric fencing solutions or enclosed in a mobile chicken tractor on the hillside.
Joel's team offered discussions from brooding newly hatched chicks to raising chickens in the mobile tractors to keeping chickens ranging freely in the pasture.  Being a little sickened still by my recent encounters with a fox, I was surprised and encouraged to hear that the Polyface team rarely has instances of predator encounters with their chickens.  Of course, if they need to deal with the occasional bear on the property, I will no longer complain about a raccoon or a fox!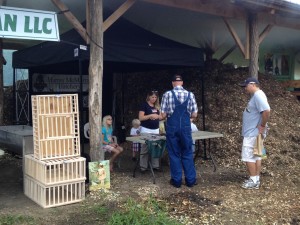 I had the pleasure of meeting with several existing Murray McMurray Hatchery customers.  It is always endearing to me to hear about the long history a customer's family has had with Murray McMurray Hatchery.  The typical conversation usually starts with, "I've been a customer of your's for a long time – my grandpa/grandma ordered chickens from you."  To this beginning I am overjoyed because I am so appreciative that someone confidently guided a new chicken owner to us.  I am also extremely grateful to my many co-workers who have continued the tradition of service and quality chicks that this customer came to know through the recommendation and experience with their grandparent.
After a full morning, it was time to eat lunch.  As in true Polyface fashion, lunch was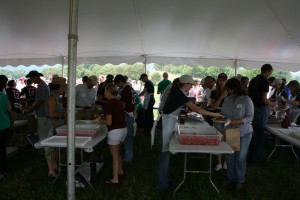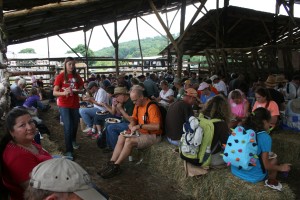 absolutely delicious.  As our booth was located just three stalls from the "grill", my stomach had been growling ever since 6:00am when they started the coals.  Roasting over the coals on a very unique grill setup was approximately 1,000 whole chickens.   I knew the crew had done this once or twice before as I watched a gentleman marinate each of the chickens with a mop!  After getting a small break from visiting with customers I looked up to see lines and lines of people waiting for the lunch lines to open up.  "I'm never going to eat" I remember thinking as nearly 2,000 people looked intently at the volunteer servers waiting for the go-ahead to start serving.  Amazingly all were served within about 30 minutes.  As I walked towards the lines, guests were all smiles as they feasted on marinated chicken, beef, pork, fresh vegetables and a piece of chocolate cake.  I immediately thought of the five loaves and two fish miracle as what the volunteers had just accomplished was something amazing.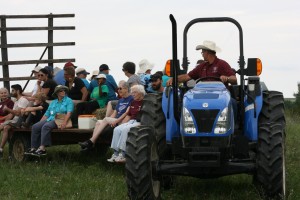 It is one thing to see a manager or executive of a company say one thing and then direct others to do the task.  It was rewarding to watch Joel not just direct events but actively participate and lead talks, how-to's and even drive guests on the tractor from talk to talk.  In fact, rarely did I see anyone with a Polyface shirt on sit.  The day, in general, was a very well orchestrated, managed and executed event.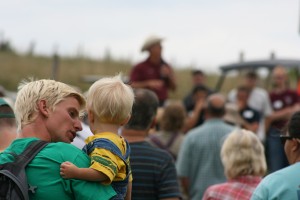 At the end of the day, it was wonderful to meet so many individuals involved in or wanting to be involved in raising chickens.  While not everyone has the land or the knowledge of Polyface, each person walked away inspired, educated and equipped to pursue their multitude and varied dreams of starting their own similar farm or homestead.  While this was one event, on one day, in a single state of Virginia, the seeds planted by the Polyface team are going to be bearing fruits for generations to come.  I feel so blessed that Murray McMurray Hatchery was able to participate in such an event and can't wait for the next opportunity to meet future customers and play a small part in their new lifestyle.
Below are few more pictures that capture a little of what transpired throughout the day.  Thank you again to Polyface and all the volunteers that made the day possible.
\