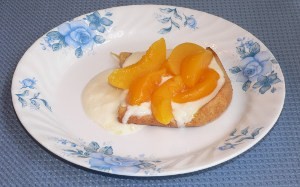 This is a tasty and easy to prepare breakfast pancake recipe that uses a lot of chicken eggs. Serves 6.
3 tbsp. butter
6 eggs, beaten
1 cup flour
1 cup milk
1/2 tsp. vanilla extract
1 tbsp. sugar or honey
Preheat the oven to 350 degrees F.  Place butter in a 9″x13″x2″ baking pan and put it into the oven until the butter is melted.  Meanwhile, combine the rest of the ingredients using a wire whisk or hand mixer to make a batter.  Coat the bottom of the baking pan with the melted butter, and pour the batter evenly into the baking pan.
Bake uncovered for 15 to 18 minutes. The pancake will expand and "poof up" around the edges.  Cut it into squares and top it with yogurt, fresh or canned fruit, and/or maple syrup.  Enjoy.
Try other recipes from our blog by clicking here.