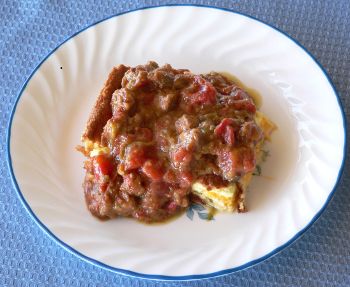 This is a delicious main dish that uses a lot of eggs and serves eight people. It tastes best when served with Green Chile Sauce.
4 – 4 oz. cans whole green chiles
1/2 lb. Monterey Jack cheese, grated
1/2 lb. cheddar cheese, grated
6 eggs, separated
1 cup sour cream
1/2 tsp. salt
Preheat the oven to 350° F. Butter a 9″ x 13″ x 2″ pan.
Slice the whole green chiles lengthwise, so that they open up and lay flat.  Layer half of the green chiles on the bottom of the pan, and top with the Monterey Jack cheese.  Layer the rest of the green chiles over the top of the Monterey Jack cheese and top with cheddar cheese.  Sprinkle with salt.
In a medium-sized bowl, beat the egg whites until stiff.  In a separate large-sized bowl, beat the egg yolks until thick, and beat in the sour cream.  Fold the egg whites into the yolk/source cream mixture, then pour over the top of the casserole. Bake uncovered for 45-50 minutes until done and golden brown.
To serve, cut into squares and pour Green Chile Sauce over each serving.