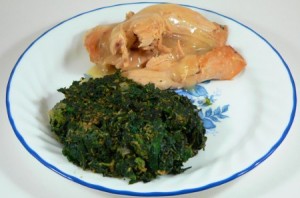 This spinach stuffing recipe is an old family favorite that is easy to make and goes well with a fresh roasted turkey for Thanksgiving dinner.  Serves 8-10 people.
3 lbs. frozen spinach, thawed
1 large onion, chopped
4 cloves garlic, chopped
4 tbsp. butter
1 stalk celery with leaves, chopped
1 tbsp. dried basil
1 tbsp. dried parsley
1 cup Italian style breadcrumbs
3/4 cup grated Parmesan cheese
2 eggs, lightly beaten
1 tsp. salt
1/2 tsp black pepper
In a large pot, sauté onion and garlic in butter until soft. Add celery, basil, and parsley then sauté a few minutes longer. Add the rest of the ingredients and mix well. Transfer the stuffing to a 9″ x 13″ x 2″ baking pan and bake uncovered in the oven at 350° F for 30 minutes. You can also bake the spinach stuffing inside a turkey — makes a great Thanksgiving dinner.