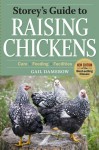 With 40 years of experience raising dozens of different varieties of chickens on her family farm, Gail Damerow has skillfully compiled an easy to read, comprehensive guide for the family desiring to start their own backyard chicken raising experience as well as a ready reference for the more experienced and ambitious small scale farmer.
She includes chapters on
Choosing a Breed
Fowl Disposition
Shelter
Feed and Water
Routine Management
Health Care
Laying-Hen Management
Eggs
Managing a Breeder Flock
Hatching Eggs
Chick Care
Exhibiting Chickens
Managing Meat Birds
Meat on the Table
Each chapter is subdivided into several different subject areas including breed selection, pecking order, fowl intelligence, free range vs. shelters, predators, biosecurity, diseases, nutrition, egg safety, breeding methods, incubation, selecting show birds, meat breeds and broiler health issues, killing, cleaning and preserving the poultry just to name a few. All the chapters contain numerous valuable diagrams, photos, charts, and instructive sidebars to augment the information in the text.
This is an enjoyable reading experience for anyone with an interest in raising chickens of their own for egg or meat production, show birds, or children's pets. This 438 paged book contains a glossary as well a recommended reading list. Under the title of "Resources" is a list of magazines, organizations, and providers of predator control equipment, seed sources, hatching and brooding equipment, and egg gauges for determining the air-cell in the egg. These are listed with phone numbers and in many cases web site information.
To find this book on our website, visit:
Storey's Guide to Raising Chickens, by Gail Damerow
See also Gail Damerow's other highly recommended books, The Chicken Health Handbook, Barnyard in  your Backyard, and Your Chickens: A Kid's Guide to Raising and Showing