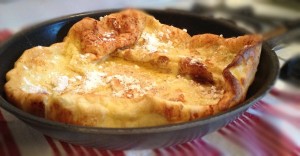 There are so many things that Grandparents pass along to us – the many life lessons, the calm gentle suggestions derived from years of experience and the sweet perfections from tried and true experiments in the kitchen.  The last category is of course where the baked eggs fit into.  Great grandma, or GG as we call her now since the birth of my children, makes the best baked eggs.  Quite honestly, until I met my wife, I had no idea what baked eggs were.  As far as I knew, my in-laws were playing another joke on the new addition to their family that would believe anything to please them and have the blessing of marrying their daughter.  I've grown wiser in recognizing their antics and now also have come to know and love GG's baked eggs.  While I don't think it was GG's original creation, she has modified an original recipe to her own that I dare not part from.  So it is with love and a deep desire for all to share in this wonderful treat and experience that I give you the recipe to GG's Baked Eggs.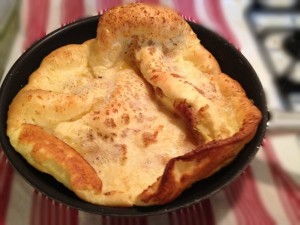 GG's Baked Eggs*
1/2 stick butter
3/4 cup flour
3/4 cup milk
3 eggs
Nutmeg
Lemon Juice
Powdered Sugar
Melt butter in skillet.  Mix flour, milk and eggs; Beat together with whisk.
Sprinkle with nutmeg.  Pour mixture into skillet**.
Bake at 425 degrees for 15 to 20 minutes.
Sprinkle finished product with lemon juice and powdered sugar.
*Original recipe called for half a cup of flour, half cup of milk, two eggs and full stick of butter.  **Skillet sizes will vary.
We cut the baked eggs like a pie and serve.
My wife prepared the baked eggs the first time I saw them.  Quite honestly, I thought something went seriously wrong- Like the time she was trying to make me a grilled cheese sandwich on the stove at my parents' house.  I've never scrambled for a fire extinguisher quite as fast as I did that day.  My dad worked nights so I'm sure him being awakened by the fire alarm and smoke was quite a startle.  We all suffered from the experience as we watched him run from the bedroom to the front door in his underwear.  Some images just seem to stick in your mind forever.  The baked egg will rise far above the sides of your skillet and just start to turn inward in most skillets.  While it appears to be a freak of nature, rest assure, it is how it is supposed to be.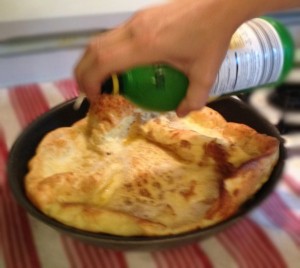 Now you will notice the recipe does not specify exactly how much lemon juice or powdered sugar to use.  The amounts will have to be applied to your specific taste preference.  My wife likes to sprinkle the powdered sugar sparingly, God bless her.  After nearly 15 years of marriage and over 20 years together, she has to know that I need a little more powdered sugar.  Again, apply to your taste preference.
It is almost overwhelming to hear my four year old son ask if he can have GG's Baked Eggs in the morning for breakfast.  With a supply of happy hens in the back yard, our continuous supply of eggs helps make that possible.
Our GG is the best cook.  From her homemade apple pies to pumpkin pies with her signature pumpkin faces of dough on the top, the holidays were never complete until she presented her creations for us all to enjoy.  I would be remiss if I didn't mention a certain grandson-in-law who benefitted many times from her dropping off his favorite of a peach cobbler for no special reasons other than she loved to do it.  I can taste the cobbler now just writing about it.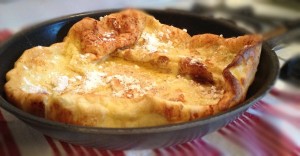 Recipes are pretty amazing really.  While we don't get to see GG that often any longer, the memories flood right back to our minds and hearts as my daughters help their mother prepare one of her many recipes.  One day, God willing, my daughters will share GG's recipes and my wife's recipes with their children and grandchildren.  They will speak fondly and lovingly of the memories they have of their loved ones and continue the generational right of passage of sharing such.  After all, a recipe without the love and memories of where it came from is, well,  just a recipe.  When you find a new recipe, share it with someone special and create a new story – one that will be remembered.