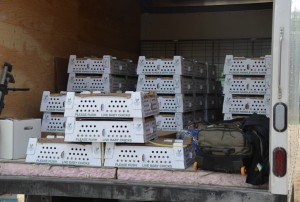 As Avian Influenza (AI) has continued to spread in the United States and Iowa, in particular, we began making arrangements in May of this year for how we could start some backup flocks.
Although the strains of AI found in the U.S. have not affected or posed any direct risks to humans, AI has caused the loss of millions of birds — both chickens and turkeys — since December 2014. Many of the breeds that we raise are somewhat rare, and if we were to lose a breeding flock of one of those rare breeds, it would take a long time to find good breeding stock again and then build our flocks back up to the size needed to maintain the breed's genetics and to provide adequate numbers of chicks for our customers.
So we made a list of our most important breeds — those that would be most difficult to re-establish — and entered into discussions with Joe Claborn, a long time friend in Texas. Joe agreed to set up facilities where he could house and raise about 3,700 of our chicks. Texas would be an ideal location for our backup flocks because its warmer climate discourages the spread of AI.
On May 27, as was mentioned in a recent Reuters article, our company president, Bud Wood brought a truckload of about 3,700 newly hatched chicks to Joe's farm in Texas, and we set them up in pens where they could be raised. Meanwhile, we began construction of additional housing for the birds as they grow and need more space.
So far, none of our flocks in Iowa have been affected by AI. We plan to continue monitoring AI and make adjustments as needed to maintain our breeding flocks so that we can continue to supply you with the wide selection of breeds that we have become known for.