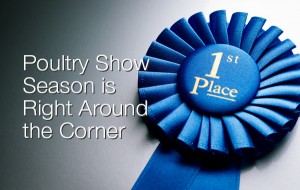 Showing poultry can be a fun hobby enjoyed by the entire family. With the show season knocking at the door, we wanted to share some simple tips to help you maximize your experience and hopefully bring home a ribbon.
BATHING — It is important to thoroughly bath your chicken. Use a pan of warm water and a good shampoo to assist with cleaning the feathers. Washing them several times with shampoo and rinsing will ensure that the dirt nestled deep in the feathers is washed away.
TOWEL DRYING — Remove the bathed bird from the pan and wrap in a towel while drying it off. This will absorb the excess water built up on the feathers.
APPLYING LOTION TO THE COMB — The next step is massage lotion into your bird's comb and wattle to help make them look their best at judging.
BLOW DRYING — Using a blow dryer to finish drying your clean bird will help create nice, fluffy feathers. Some birds enjoy this while others do not. You will have to determine if this is a step your bird will tolerate.
GROOMING — Grooming your prized possession is important so they score high when being judged. First, clean up the face by carefully plucking unwanted feathers. Then take a damp Q-tip and remove any dirt above the eyes, on the comb and feet that still remains after bathing.
CLEAN THE HOCKS AND TOES — Using a football hold will allow you to work on each leg easier. While holding the bird, clip their nails. If they have sharp nails, use a nail file to create a smooth edge. Be careful not to clip too close as they will bleed. Applying pressure will help stop the bleeding.
AIR DRYING — While you are waiting to be judged, place your bird in a clean cage with fresh bedding and let them air dry. Be sure if it is hot outside that you provide them with water and shade to stay cool.
Murray McMurray Hatchery has collaborated with award-winning chicken owners and designed the Murray's Best Show Kit that contains an array of products that will make it easy to get your poultry show ready! Everything you need from shampoo to comb reddening are included in this handy kit.