The 2021 Murray McMurray Hatchery catalog is done and in the mail! Copies have already started landing in mailboxes across the U.S. and Canada. We are thankful to be able to feature so many amazing photos submitted by our customers each year, and this year was no exception. Our 2021 catalog features over 70 pages of full color photos of each breed we carry — made possible with the help of our customers, family and friends — and over 25 pages of poultry equipment, resources, gifts and more. Our sincerest thanks to all who have contributed to this issue, and in the past. Each contributor listed below will receive a McMurray Hatchery Gift Certificate.
We would like to extend a special thanks to the following individuals who contributed a number of photos for this year's catalog:
Teddi Yaeger
Ashley Stratton
Cassandra Haring
Lizzy Diaz
Michael Krupecki
Tiffany Johnson
And, thank you to the following influencers and homesteaders who have graciously contributed photos and content for this year's catalog:
Big Bear Homestead
Broadshoulders Farm
The Chicken Chick
Coop Dreams
The Fit Farmer
Homesteaders of America
Roots and Refuge Farm
Stoney Ridge Farmer
Sow the Land
White House on the Hill
Congratulations to these entrants from our 2020 photo contests and other contributors whose images appear in our 2021 catalog:
Abigail Butler
Alice Kelm
Alissa Savitz
Amelie Boucher Otis
Angela Greenroy
Ashley Bickell
Bailey Abel
Bailey Ann Franklin
Bernice Badja
Bernie Erickson
Beth Gagnon
Bowen Holden
Brittany Arquette
Brittney Knight
Britany Owen
Cade McCullough
Cheryl Sims
Chris Bell
Christine La Pointe
Claudia Hebert
Colton Leatherow
Dale Kenyon
Daniel Graves
Deb Cleveland
Destiny La Pointe
Diana Hutson
Eleanor Durham
Elizabeth Miciunas
Ellie Bowman
Eric Edwards
Forest Edelman
Gigi Ahrens
Grace McCain
Hayden Curtis
Heather Roberts
Jennifer Toth
Josia Vanderford
Kate / Mark Brencher
Katherine Hondrogen
Kathy Spencer
Kaylee Luke
Kelsey Houk
Kezia Uhrich
Kimberly Wickham
Kristin Matheny
Laura Suarez
Lauren Lewis
Lauren Weymouth
Leanne Spry
Leigh Ann Shiflett
Lena Shell
Linda Lundberg
Lindsay Howell
Lindsay Jones
Mahlon Hunt
Mandy Stucke
Marla Tipping
Matt Reagan
Maya Sarver
Megan Garrett
Melissa Beechy
Michelle Richards
Nancy Williams
Nathalie Manus
Nicole Witham
Nina Andrews
Pat Lewis
Rebecca Reynolds
Rebekah Jaeger
Sara Alvord
Sharon Spano
Sherry Young
Sophie Cain
Stacy Chester
Tandra Hull
Tatum Timm
Tawny Freeland
Travis Anderson
Victoria Hordis
Wanda Patterson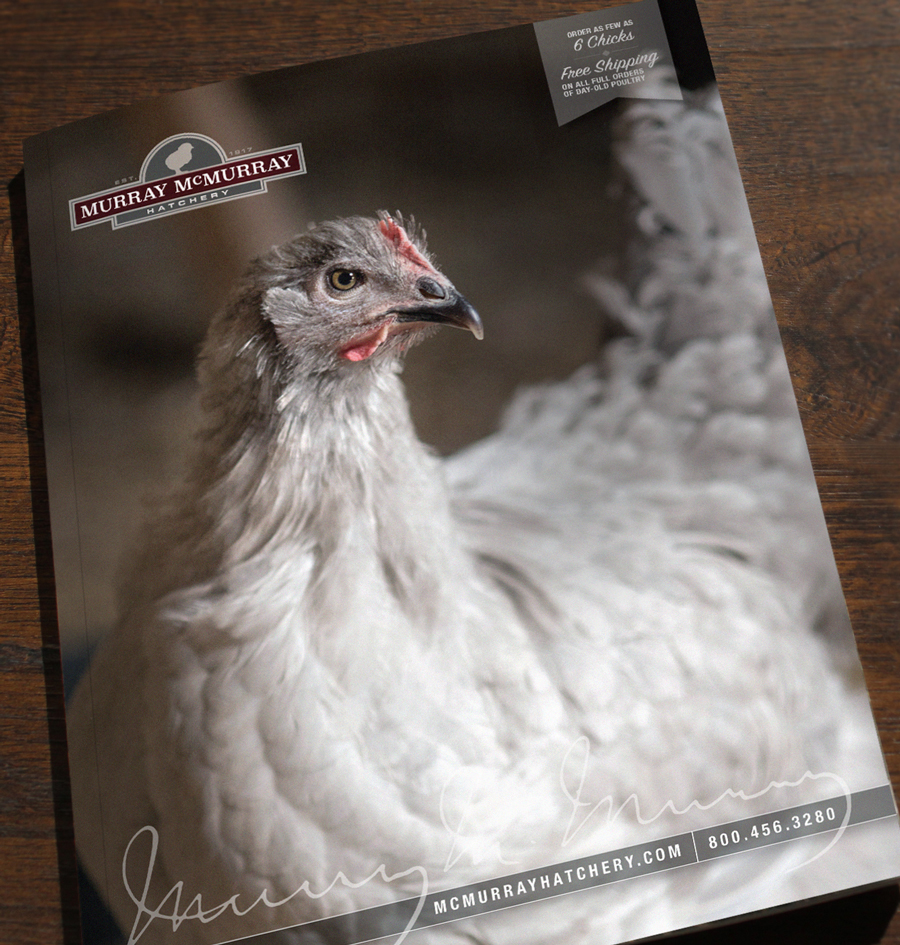 Sign up now to receive your free copy of the 2021 McMurray Hatchery Catalog. This 108-page publication features full-color images of each breed we carry, and makes a great breed reference. Order your free copy today.