Barbara Chatterton-Luuring and her family are starting a homestead in Machias, Maine. They moved there from the Netherlands about a year ago and began raising chickens for the first time this Spring. They are starting a homestead on three acres with a flock of 45 chickens and three guinea fowl.
Barbara has had a long-standing desire to start a homestead and raise livestock. She and her husband have four children, and they feel it is important to raise livestock and live on a homestead because of the skills and positive character traits that it teaches and imparts to their children. Besides that, they also feel that raising their own food is a way that they can become more responsible for what they put into their bodies.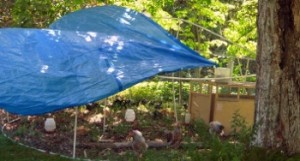 When Barbara and her family first began raising chickens, they purchased seven Blue Laced Red Wyandottes. Their home is near a saltwater estuary, which acts as a habitat for eagles, and they soon lost much of their small flock to eagles. Other predators that are a problem in their area are raccoons and foxes.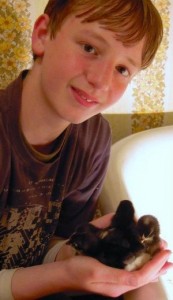 Not to be deterred, Barbara and her husband improved their chicken housing. They converted a tool shed into a very secure chicken coop and built a chicken tractor. The chicken tractor gave them a place to put the chickens during the day, where the chickens would have access to free range but still be protected. They replenished their flock by purchasing Buff Orpingtons and Black Australorps from Murray McMurray Hatchery along with Barred Rocks from another source. During the day, they move some of the chickens in the chicken tractor so they can range, then at night, Barbara transfers them back into the chicken house for additional security.
Barbara's children really love raising chickens and in her words, the children "are a humongous help with the chickens". The chickens really seem to enjoy the children also.
Barbara is thrilled to be starting a homestead, and looks forward to adding more livestock to build up her family's homestead in the future. She plans to start raising a special, small variety of White Turkeys that are well suited to Maine's cold winters, and she wants to begin raising rabbits and dairy goats.